Most retailers we work with have several segments of customers within their respective niches. Perhaps you're the boot company that has a different customer for steel-toed boots than for fashion boots. Perhaps you're the woman's retailer who has customers visit from various affiliates with highly-specific needs. And commonly, retailers may have want to unload excess inventory to a group of highly price-sensitive discount shoppers. Lytics can help with all of these.
First though, you need to do two things:
Determine what segment of users you're looking to target.

Build the appropriate collection in your ecommerce platform or have the URL for the existing collection on hand.
Let's assume for the sake of this example that we're looking to target users who have previously browsed the brand "The North Face" on your site. Depending on the structure of your data, there may be many ways to do this. Mostly commonly, retailers use clear URL structures that make it easy to generate these segments. In our example, we use "URLs visited" contains a string for The North Face. See below: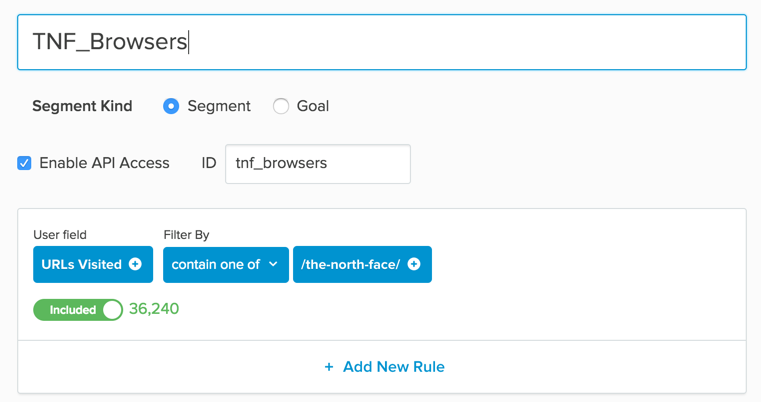 We can now build a personalization experiment to target these users with a link to a shop with specific products they are interested in.
Now that we have the audience for our message, let's make a message for it.
Navigate to "PERSONALIZE" and "Create New Campaign" to get started.
Select a campaign to drive traffic:
Give your campaign a name:
Enter the URL of the collection you're trying to promote
Stylize your widget. In our case, we used a sticky bar and instructed visitors in this segment to "Shop our newest arrivals from The North Face" and added a CTA of "Shop Now"
Specify your audience:
Specify any rules:
And once you've previewed it and reviewed to make sure everything is working, set it live:
Congratulations! You have successfully launched a targeted message to drive users to a targeted merchandise collection.